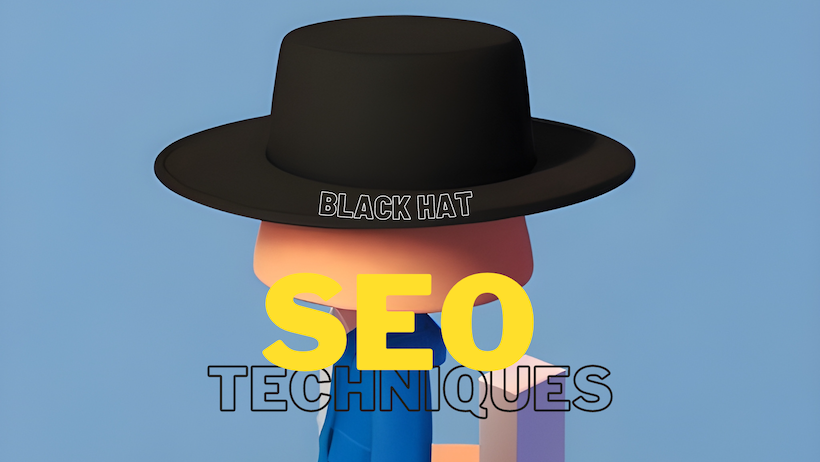 SEO (Search Engine Optimization) techniques are designed to help websites perform better on Google and other search engines. This is done by using different tools to improve a website's ranking on search pages. However, there are some methods whose use can be damaging to the reputation and quality of a website. Such methods are known as 'black hat' techniques.
What are Black Hat SEO techniques?
Black hat SEO refers to the techniques aimed at improving a website's position in search results by using unethical or illegal methods. Such practices are usually against search engines' terms of service, and using such practices can result in your website being banned from search engines, as per Google's Webmaster Guidelines, where black hat techniques have been condemned. Examples of such practices include: 
Keyword stuffing - where the same words or phrases are repeated frequently and sound unnatural.
Hidden text or links - textual hidden content that search engine crawlers can read but visitors cannot read or see. It is also called invisible or fake text.
Malicious redirects and pages with malicious behaviour such as phishing, viruses, Trojan horses and other malware.
Link buying schemes - where links to or from your website are manipulated, where links are unnatural or are only intended to improve positions.
Automatic generated piece of content that looks unnatural and is not optimized or tailored for the user.
and others.
Can Black Hat techniques harm my website?
Although the use Black hat SEO techniques can improve a website's search ranking in the short term, they can damage a website's reputation and quality in the long run. Typically, these practices violate search engines guidelines, which can lead to non-indexing or incorrect display, thus you should avoid Black hat SEO at all costs.
For example, the excessive use of keywords in the content is a common method that can have a negative impact on the ranking of a website in Google search, as this is considered an illegal practice. Similarly, spammy paid links can lead to an improvement in a website's ranking, but if the search engines determine that this is an illegal practice, they may penalize and downgrade the ranking, de-index the home page and remove the home page from the search engine results pages, etc., which can have a negative impact on a website's reputation as well as the reach and, ultimately, the success of your business.
What are White Hat SEO techniques?
White hat SEO techniques, or SEO best practices, on the other hand, are legitimate and ethical methods to improve a website's ranking online. For example, well-written and relevant content that is useful to users' needs and tailored to SEO requirements can increase a website's relevance and attractiveness to search engines, thus rankings and traffic to it. You should use these techniques to craft your successful White hat SEO strategy and practices to avoid negative SEO results.
Other good SEO techniques include:
Quality, optimized content that meets E.A.T. guidelines.
Fast website load times and mobile-friendliness.
Social media integration.
Improving internal links, user journey and experience.
Detailed use of meta data.
How to identify Black hat SEO tactic?
Detecting websites engaging in Black hat SEO practices is usually difficult, but there are a few signs that can help identify them. For example, an excessive number of links that do not reflect the quality of the site or the subject matter of the content can be a sign that a site is using unauthorised SEO techniques and that search engine optimization are being carried out without following the rules. Similarly, overuse of keywords in content, hidden links that repeatedly redirect and lead to a third party, or cluttered URLs may signal that the site owner of the page is using unauthorized optimization techniques. 
How can I avoid Black Hat tactics?
The best way to avoid Black hat SEO practices is to follow legal and ethical methods that comply with search engine rules. This means creating quality content that meets SEO requirements and using natural links and keywords. Also, related Black hat SEO practices, such as excessive use of links or spam keywords, should be avoided. If you do not have sufficient knowledge and do not want to damage your website's reputation, it is recommended that you choose a professional SEO company, where the SEO specialists will ensure that the SEO services are of high quality and that they are carried out in accordance with all the guidelines and regulations.
What are the consequences of Black Hat SEO practices?
Bad SEO practices can have various negative consequences. For example, search engines may reject a website or lower its ranking due to the use of illegal SEO practices. It can also have a negative impact on a website's reputation and user experience, as bad or low-quality content can drive visitors away. In both cases, there is the potential for damage to a business' reputation, visibility and revenue, which can have long-term, sometimes irreparable consequences.
Black hat SEO is very risky, and as search robot algorithms continually improve and can detect bad SEO practices easier, it becomes harder to hide illegal optimization.
Common misconceptions about SEO methods
SEO services are a one-off process
No, SEO services are not a one-off process. Search engine optimization involves ongoing work to maintain and improve a website's rankings. This includes monitoring changes in search engine algorithms, regularly updating content to ensure that it is optimized for search engines, monitoring a website's performance on SERPs (search engine results pages) and link building activities. Thus, a broad but one-off application of various practices will not bring stable benefits.
Keyword stuffing is effective
No, keyword stuffing is not an effective SEO practice. Keyword stuffing is the overuse of keywords or phrases in the content of a website to manipulate search engine rankings. This practice is now strongly discouraged by search engines and can result in penalties such as lower rankings or even a complete ban from the search engine. So while keyword stuffing may have been effective in the past, it is no longer an effective SEO tactic.
Quality link building is irrelevant
Quality backlinks are still a very important part of SEO, even though search engine algorithms have changed over the years. Link building is the process of building links from other websites to your own website in order to improve your site's authority and position in search engines. This can be done by submitting content to directories, writing guest blogs or requesting backlinks from other sites. Although this method is not as important as it used to be, backlinks - especially for links that are useful to the user - is still a very important part of SEO and should remain an important objective of external optimization process.
Conclusions
Black hat SEO techniques may improve a website's search engine rankings in the short term, but they can have irreversible, negative long-term consequences for a website and its reputation. It is recommended to use good SEO practices that are legal and ethical to optimize a website for search engines, which could help to optimize websites for long-term, stable results.