The beginning of the year is the perfect time to take a quick look back at 2022 in the SEO industry and highlight what we are looking forward to and what will be trends and predictions in SEO strategy in 2023.
We've picked out some of the highlights from last year's SEO statistics that assure us that SEO remains an important tool for growing your business, and that these figures will drive the trends for the coming year.
As many as 95% of users click on the first page of a Google search.
89% of marketers (marketing professionals) consider SEO a successful tool;
76% of customers shop on mobile;
80% have an average conversion rate for local searches (Google Maps + Google Business).
The rise of importance of Core Web Vitals, Mobile Search, Voice search, digital marketing and other concepts for better rankings and search engine results shape what SEO trends will dominate next year and what the SEO community will be focusing on in 2023, read on.
SEO in 2023
Google Analytics 4
We have already written here about how Google Analytics Universal will stop generating results on July 1st 2023 and how Google Analytics 4 (GA4) will finally replace it and become the only version of Analytics.
GA4 is full of updates: from improved reporting, more detailed user journey, experience tracking and engagement analysis, to more detailed display and analysis of data from the app and the page in one convenient dashboard.
It's important to note that historical data cannot be migrated between versions of Analytics, so the sooner you take care of the upgrade, the more data you'll have collected and saved, with minimal disruption to annual reporting and comparisons.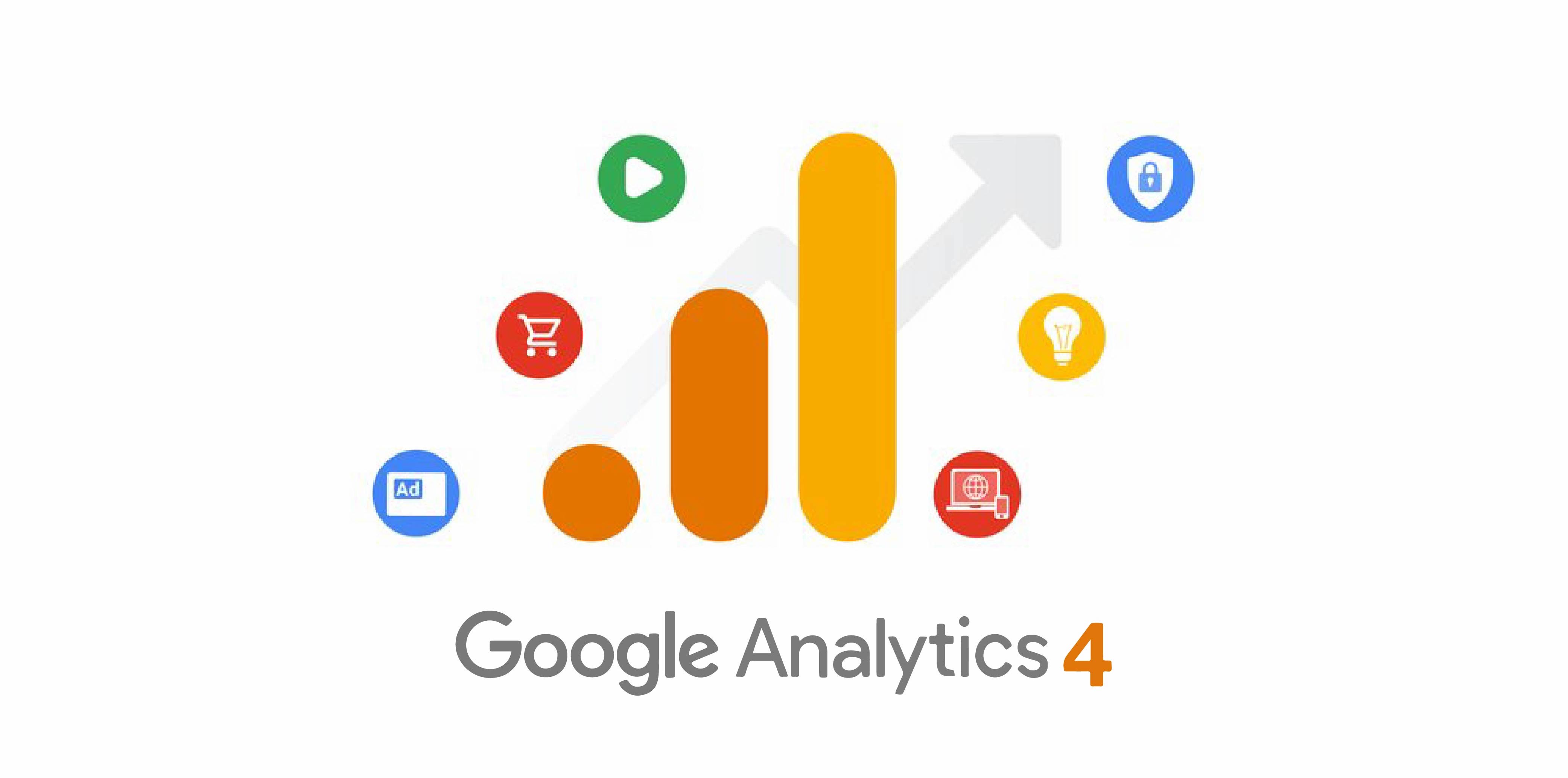 Search Intent and helpful content
Google's algorithm prioritizes how the information on websites matches the user's search intentions. And the better your page can match someone's search intent, the higher your page will rank and the higher user experience customer will have.
What might those search intents be?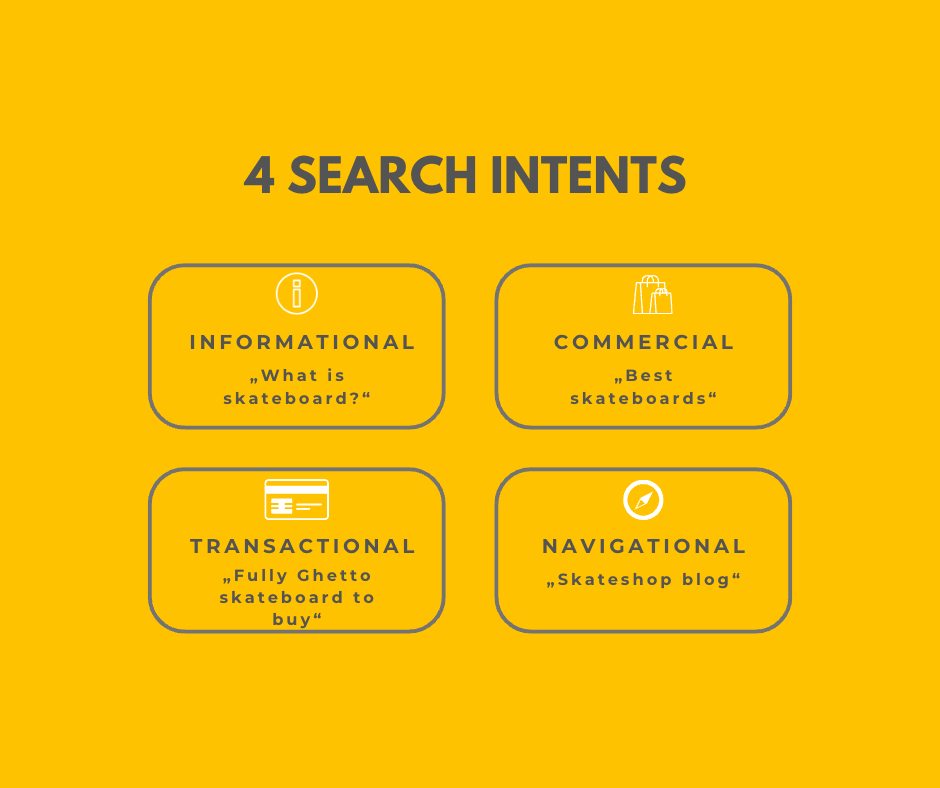 The easiest way to understand what a user's search intent is to look at the keyword (kw) itself.
For example, the terms "What is a skateboard?" or "How to choose a skateboard" are informational. When a consumer searches for these key phrases, they are not yet ready to buy a specific product, they are looking for information in a broader sense - explanations, opinions, comparisons - and it would be very uninformative for them to end up on a specific product page.
Whereas if the search keyword includes a specific brand and/or the word "buy", " sale", this is the purpose of the transactional or purchase search. The customer has already made a choice and is ready to buy.
Commercial keywords signal that the shopper is still choosing between several products, e.g. "Best skateboards 2023".
Navigational queries are designed to direct someone to a specific location on the website. For example: 'Skate shop blog' or 'Facebook login'.
Finally, you should make sure that your page is relevant to the specific search objective.
For example, you sell skateboards and your e-shop category page is optimized with the keyword "Best skateboards". This is a page with a purchase objective, but the term has a commercial keyword. And this mismatch can lead to a lower ranking of the page.
For the keyword "Best skateboards", it is better to write a blog post discussing skateboarding trends and listing some of the best skateboards with a link to their pages in your e-shop. And optimize the skateboard category page with the terms "skateboard", "skateboards", "skateboard sale", "Fully Ghetto Skateboard" to match search queries better.
Video SEO
As the collection of YouTube videos grows, so does the number of viewers, making it harder to get noticed. The platform itself estimates that over 2 billion users log in every day and as many as a billion hours of content is viewed daily. And so, in 2023 - video SEO is becoming an important part of marketing strategy.
Video SEO should be thought of regular search engine optimization, where keywords play a key role. One way to find out the right keywords and phrases for your topic on the YouTube platform is to enter your original topic in the search box and YouTube will suggest a list of keyword phrases that users searched for. 

Then use the relevant keywords in the title, tags, description and voiceover of your YouTube video. In this way, YouTube and Google algorithm will understand that your video is about a particular topic.
In addition, Google has just announced the launch of In-Video Search, which will further try to match what a YouTube user is looking for.
AI content
Realistic, off-world images or cartoon character portraits created by Artificial Intelligence (AI) have already taken many by surprise. AI is also creating and optimizing content for search engines, and SEO specialists are rushing to take advantage of this opportunity. Not only does it make it possible to create content more quickly, it also ensures that it is optimized, therefore, it is a great addition for your SEO tools collection.
And we tried out one of the most popular content AIs at the moment - ChatGPT - and asked to create a festive greeting in English and Lithuanian for our clients and fellow SEOs: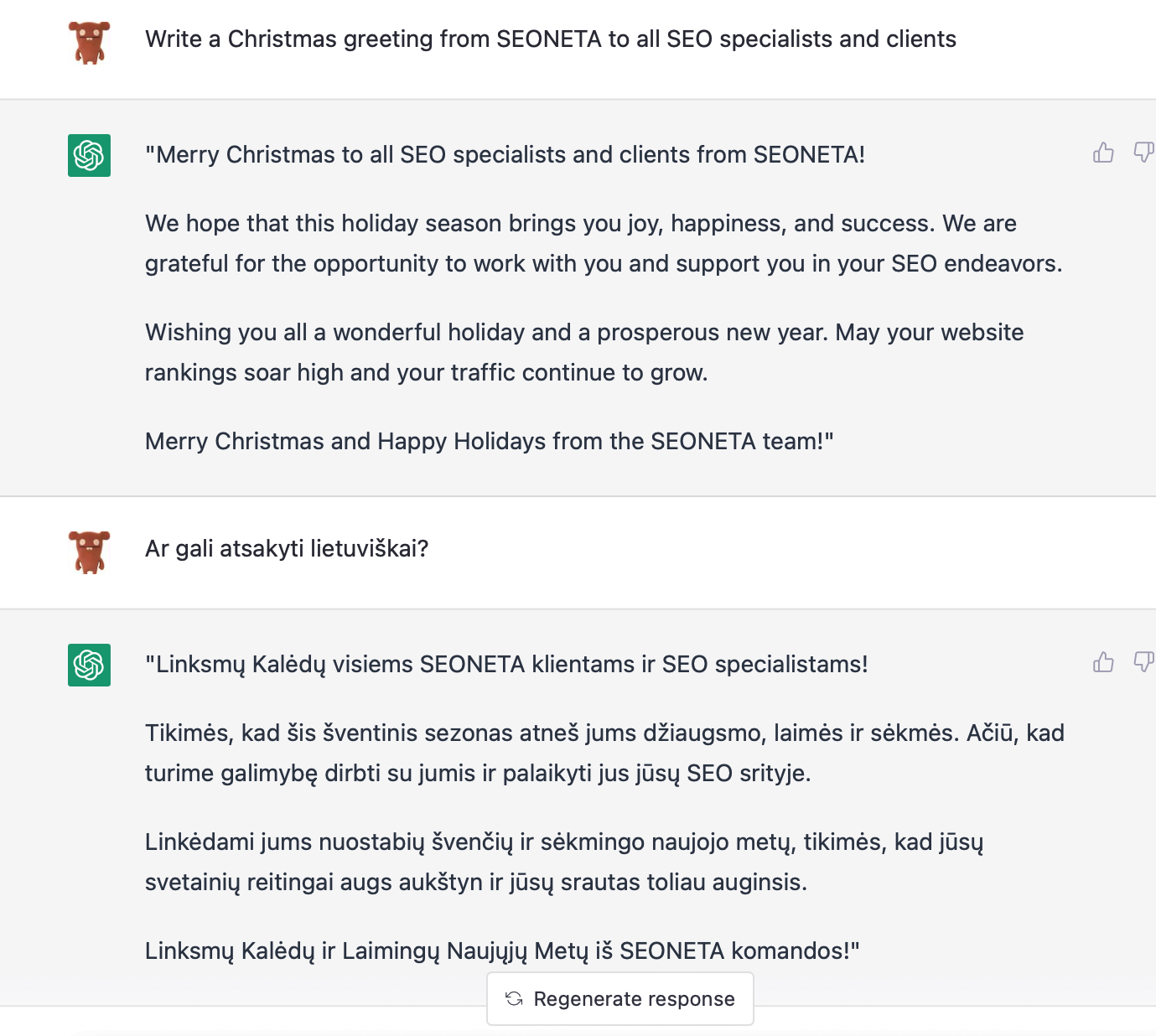 The relevance of artificial intelligence is certainly one of the top SEO trends for the coming years, but it should not be forgotten that humans still have an important role to play. SEO experts will be indistinguishable piece both in the creation of the task and in the SEO content editing produced by AI, to ensure that the piece of content is logical, high-quality, original, easy to read and promotes trustworthiness in the final result.
Mobile version of the website 
Google considers the mobile version of your website to be the "main" version of the page.
Speed, the content's appearance on a mobile device and whether Google can crawl all the pages on the mobile version become the most important goals.
To make sure Google can access and check 100% of your mobile content, take a look at the Mobile Usability report in Google Search Console.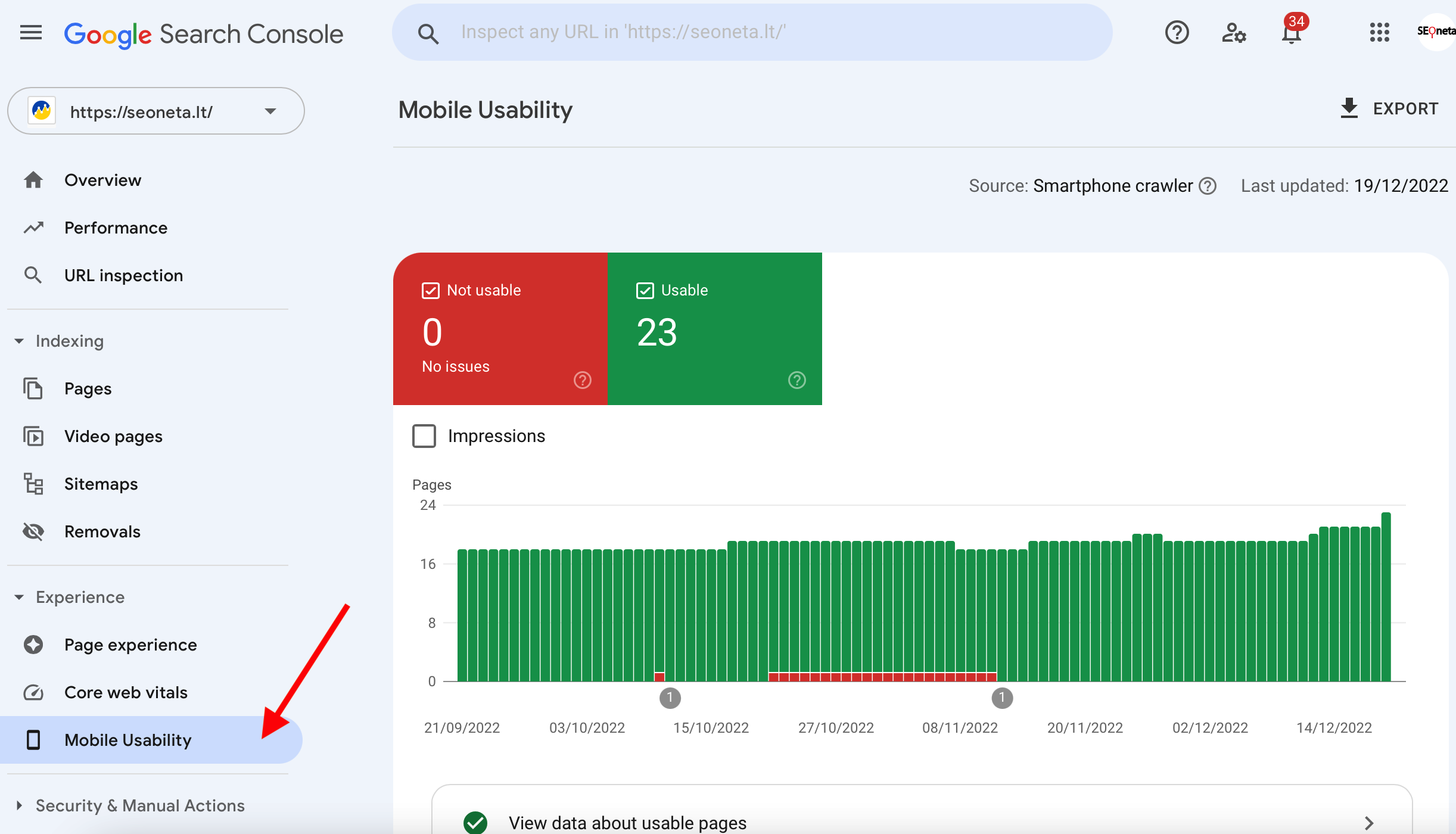 Google also has a Mobile-Friendly Test where you enter a few URLs from your page and get a straight "Yes" or "No" answer as to whether your web pages are mobile-friendly.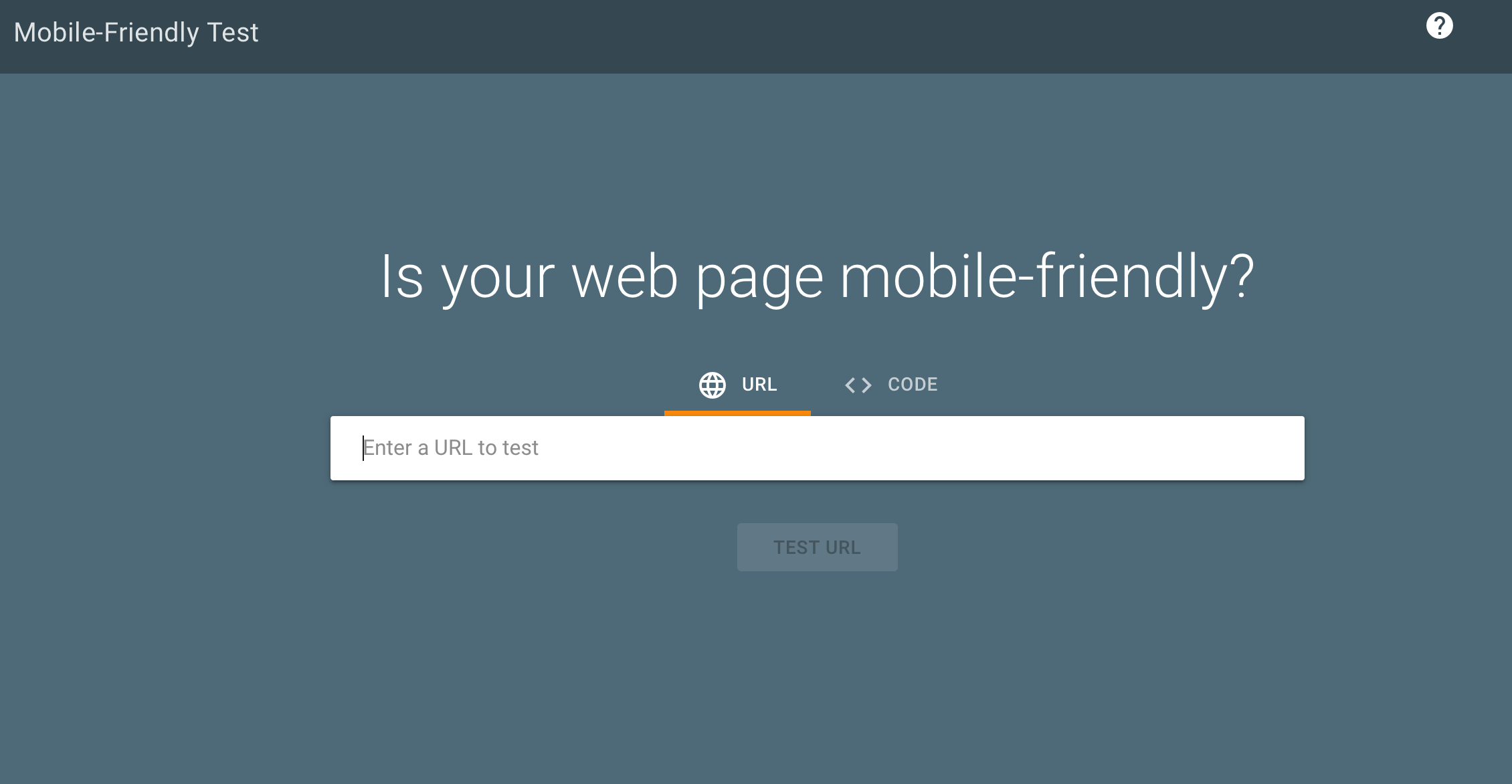 Optimizing your website you should be concerned about the speed, since it is still one of the most important aspects, so check your website's load times with PageSpeed Insights and make sure your site works as a comet so it shines in search rankings.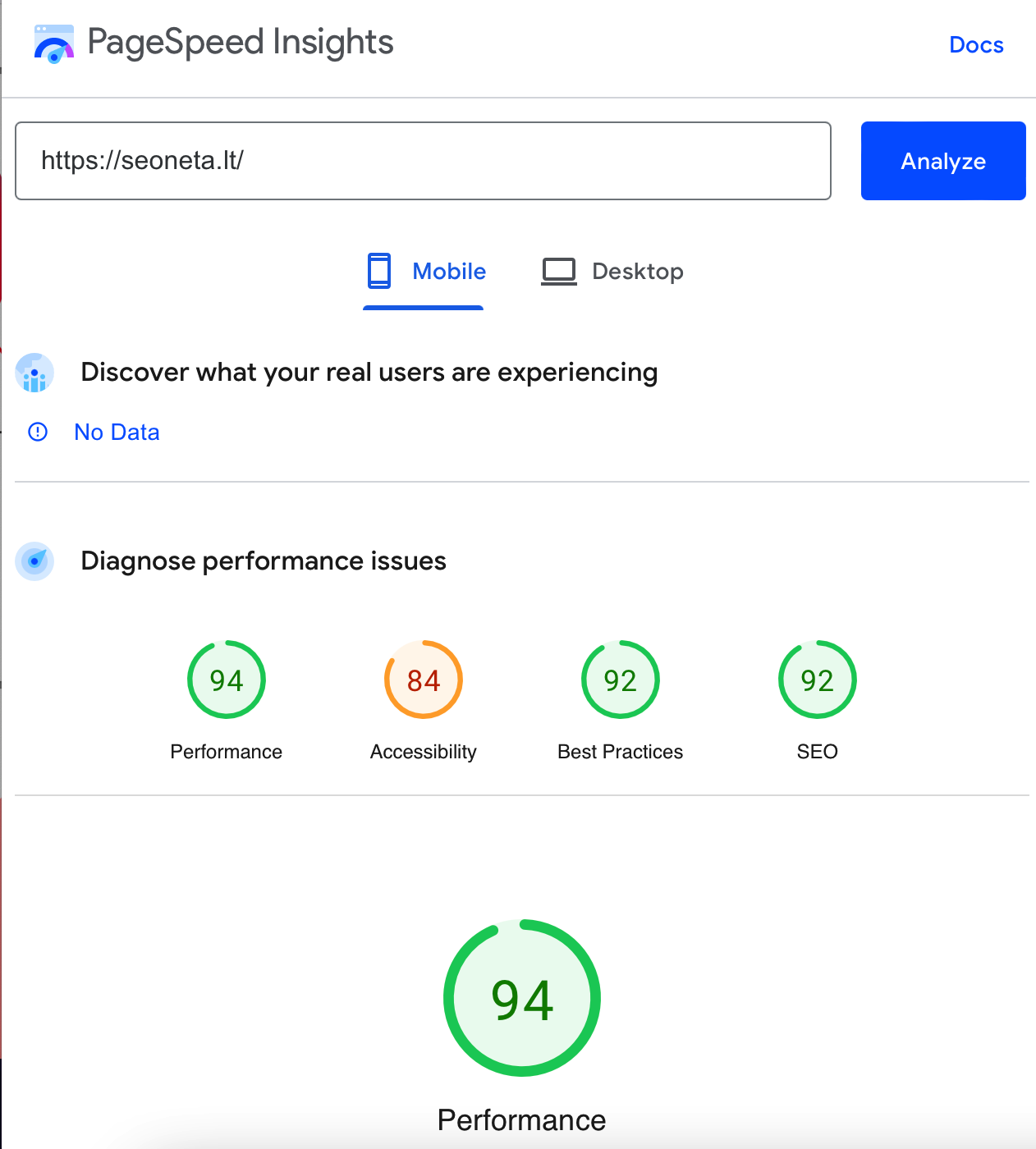 Long and high quality content creation
Important than ever, one trend that will help you outperform your competitors in 2023 is to consistently publish long-form and relevant content on your website. Content should be 2000 ir daugiau words or more and comply with E.A.T. guidelines and good looking for BERT.
Well-written content that is relevant to your website can go as high as 3-3,5 thousand words. So you will want to plan your content strategy and helpful content update to be extensive. Do a keyword research, choose your target keywords, don't forget long-tail keywords and don't overdo with keyword stuffing. Try the before mentioned artificial intelligence as a content creator tool but don't forget to check content quality and natural language. 
Rich results in SERP
Google uses structured data (schema markup) to understand the content of a page and display that content in richer search results (Rich Results), giving the user even more information and encouraging them to click.
For example, if you are selling a book, you might enter structured data such as author, year, price, on/off sale etc. All this information appears next to your Google search entry in SERPS.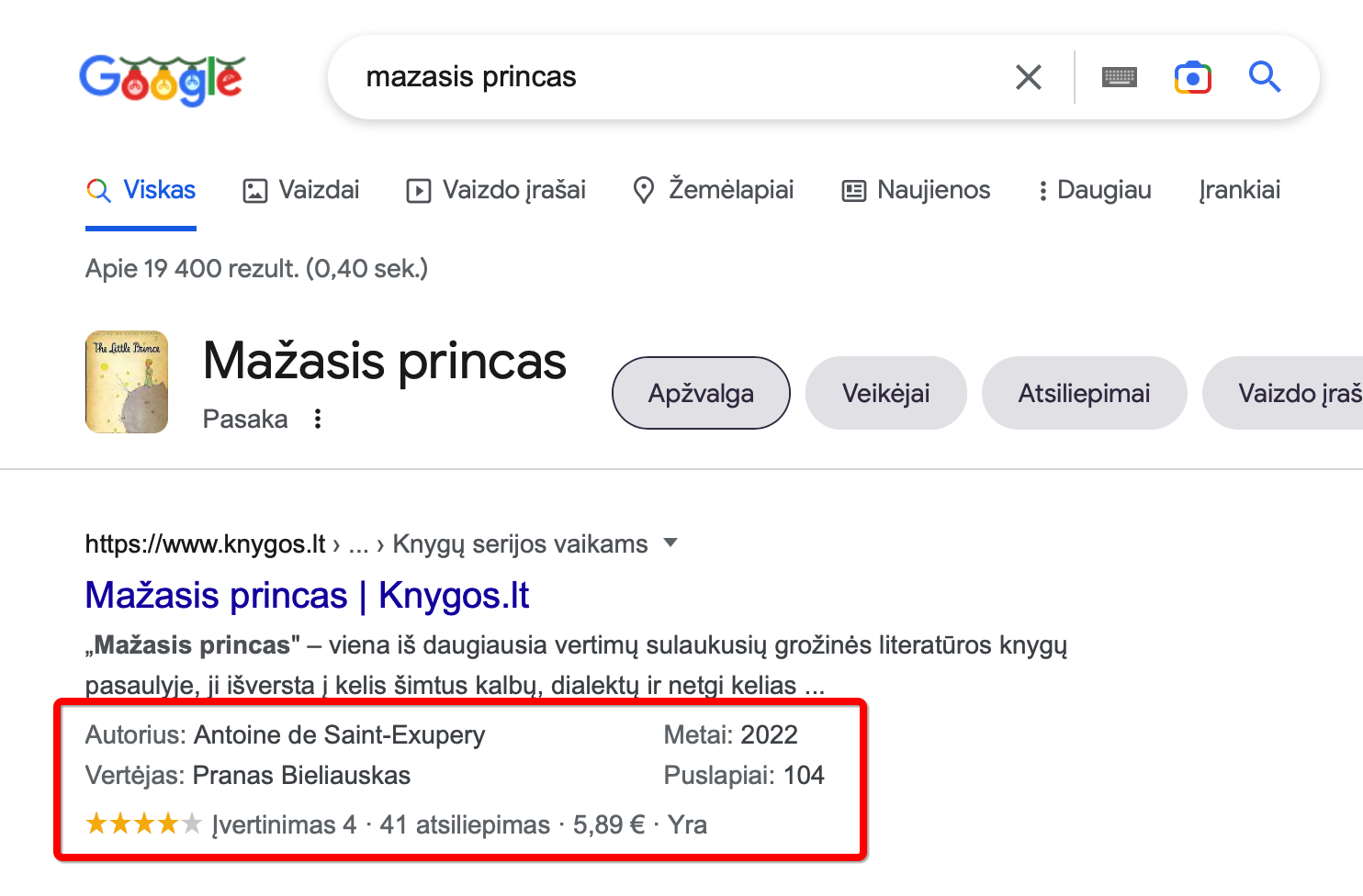 You can try using Google Markup Helper to get a better understanding what categories and which data can be structured for showing in SERP features and appropriate for your products.
We look forward seeing where these and other SEO trends for 2023 and beyond will take us and see how we can help our clients further grow their business.
Thank you for being together in 2022, see you in 2023!
SEONETA Team