Google Analytics is an essential part of every online business. By now, we're used to being able to see the most important website and user interaction metrics conveniently in analytics data dashboards, reports and more. How users find your website, who they are and what they do on it - all this data helps you to better understand how to improve your website to make it more relevant to your visitors and to get to know your customers.
Although the new generation of Google Analytics 4 was launched for users back in October 2020, from the 1st July 2023 GA4 will finally replace so called Universal Analytics. The latter will stop generating parameter results. Therefore, all Google Analytics users will have to migrate to Google Analytics 4 if they have not done so already.
It is important to note that historical data will not be migrated between versions of Analytics, so the sooner you take care of the version change, the more data you will have accumulated and saved, with minimal disruption to your annual reporting and web analytics.
What's new in Google Analytics 4 (GA4)?
Google Analytics 4 is a new data analytics tool based on enhanced machine learning techniques that allows you to monitor and measure your website traffic and user behavior for free. It is used by approximately 35 million websites worldwide, including more than 44,000 websites from Lithuania.
Google Analytics 4 primarily combines data from both websites and apps. Until now, Universal Analytics provided information on website visitors, while the analogous data collection system Google Analytics for Firebase provided information on app data. The merging of these platforms clearly facilitates the analysis and comparison of different data for businesses.
Secondly, new Google's version has changed substantially from standard universal analytics properties in terms of the new model and the way the user interface looks.  
What does GA4's new data model mean?
In the Universal Analytics version, every action (hit) was counted as a "page views", "sessions", "user timings" or other actions. In GA4, instead of counting individual actions ("hits"), the focus is on "events" and their parameters.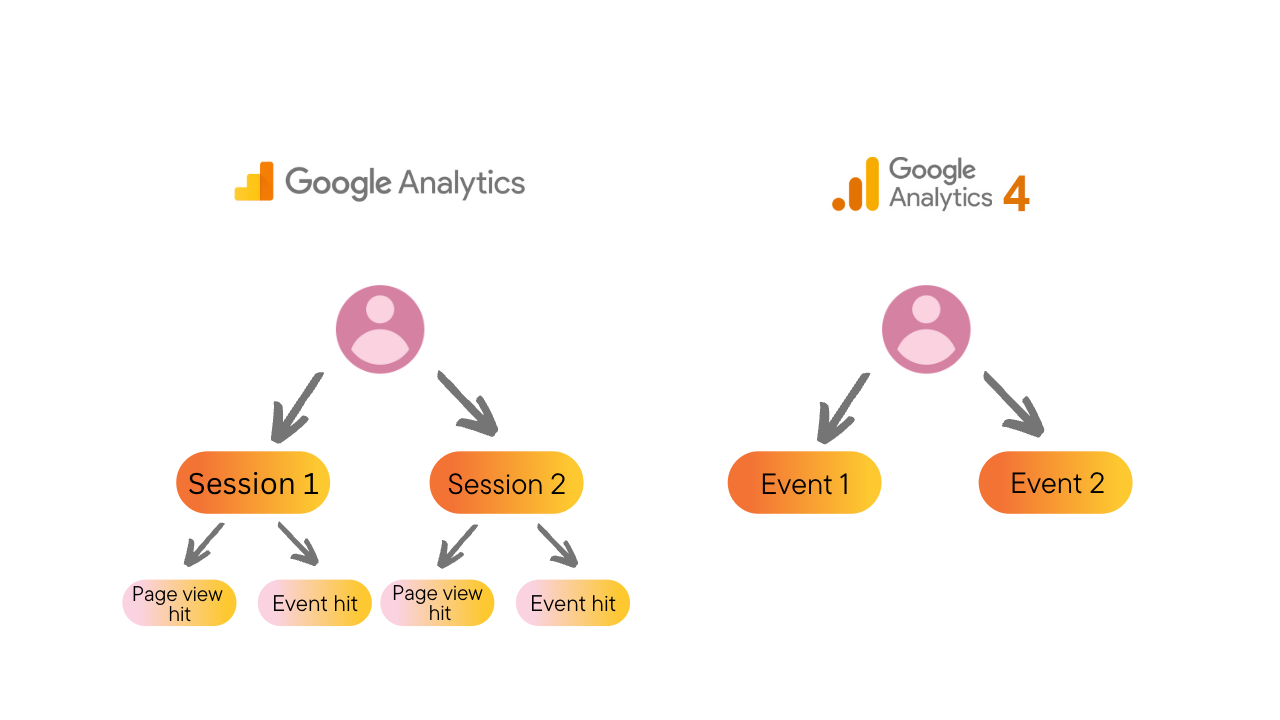 GA4 users have more flexibility when applying the parameters and the data provides much more information about the user journey itself. Each captured "event" will have additional information about it, such as where the customer came from and on what device, the name of the page, etc.
More detailed Engaged sessions and Bounce rate
Fundamentally changes how the bounce rate is calculated. In the old version of Analytics, the bounce rate is the percentage of users who came to a page but did not take any other action before the session ended (e.g. did not go to the next page, even though they spent e.g. 3 minutes reading the information on the first page).
In the new version, the bounce rate is the percentage of visits that are not Engaged sessions. For GA4 to rate an event-based data as an Engaged session, it must last longer than 10 seconds, or have one or more conversion events, and/or have 2 or more page visits.
We can clearly say that Universal Analytics focuses on quantitative parameters, while Google Analytics 4 properties focuses on qualitative parameters, and tries to answer not only how many customers visited your website, but also what they did when they came.
Why do I need Google Analytics 4?
If you already use Google Analytics, you probably already know and enjoy the benefits and value of its data. But do you need a new version?
Check your Google Analytics account
If you set up your GA interface before the 14th of October 2020, you are probably using the Universal Analytics version and need to migrate to the new GA4 version by the 1st of.
If you set up GA after the 14the of October 2020, you are most likely already set up and use Google Analytics 4 version and do not need to take any action.
Improved reporting
In the new GA4 version, you will find new reporting options and a number of new report settings. In particular, the Funnel reports have been updated to allow you to select different settings and track a user's path throughout their entire session on your page.
Many of these settings, like data-driven attribution, were only available in the paid, business version of Google Analytics 360 and are now available to all GA4 users.
Improved user path and experience tracking
The main difference between the versions is often cited as the fact that Universal Analytics provides quantitative data, while GA4 moves towards more qualitative parameters. Thus, you will now find much more information about how the customer journey is progressing. The new user path reports make it easy to view events or pages, click to see where the customer is going next, and much easier to group, segment or perform other types of path analysis.
Improved user engagement analysis
The bounce rate as calculated in Universal Analytics has become less useful as websites and apps have changed dramatically. For example, think about single-page websites and how GA treats bounce rate here.
As a result, the newly defined Engaged indicator replaces the concept of Bounce rate and is much more relevant and explanatory. The Bounce Rate, calculated using new version, is a more meaningful way to measure the level of customer interaction with your website or app. For example, if you have a blog, you probably don't mind if customers visit your website to read one article and then leave. You are probably more concerned about the number of customers who visit your site, don't find what they were looking for and leave quickly.
Adapted to work with different privacy policy settings
Evaluate engagement and conversions based on the needs of your business and legal environment. In GA4, you can use new country-level privacy controls such as behavioral and conversion modelling and measurement without cookies and metadata, while retaining core measurement functionality.
App and website data in one dashboard
And one of the most important changes in GA4 data stream: from now on, both app and website user data will be on one platform and in one dashboard.
If you have a web page and an app on an Android or iOS device, for example, you'll see your user data in a single panel as a generation of analytics, with lots of options for displaying the data together or separately. This help businesses and marketers more opportunities to compare data.
Some great expanded integrations and cross-platform possibilities with other Google products, like Google Ads or Google Marketing Platform are also in place.
What are the next steps for Google Analytics 4?
According to Google, you will be able to continue to use and continue to collect data in Universal Analytics as normal until July 1 st.
After the 1st of July you will be able to access previously processed data in Universal Analytics for another 6 months, but no new data will be collected about your users.
From July onwards, new Google Analytics 4 will be the only version that generates results and measures the success of your business page.
We recommend that you don't wait until the final day before the new version of Google Analytics 4 is fully operational and that you take care of saving your historical data and ensuring a smooth migration to the new GA4 property before then.  
The GA4 setup assistant works automatically with gtag.js. If you use a website builder such as WordPress, Wix, or for e.g. WooCommerce, you'll have to find the ID code to input on the Google Analytics field on the CMS. A complete guide by Google is available.
Need help migrating to Google Analytics 4? Get in touch!