You've set up a business, built a website, but there's no sign of visitors? Maybe you're not showing up in Google search? How should Google find out about your business and show it to people looking for it in the search results? In order to appear in searches, apart from technical things like manually submitting a page to Google for crawling, you need to show Google that your website and its content is exactly what a Google user is looking for when they type a keyword for a product or service into the search box.
There are so many similar products and pages that Google needs to rank the pages according to the best match to the user's query. The emphasis is then on the individual content of the page and how well it is executed and relevant it is, even how well it looks in the Google results.
It is SEO that helps you to appear in the search engine results and in the highest possible positions. It sounds serious, but there are do-it-yourself SEO activities that anyone who manages their own website could try.
Table of content:
Can I do SEO on my own? (DIY SEO)
If you are just started small business owners, you're not in a hurry, you can afford to spend some time searching for information, and you want to try what SEO looks like yourself - the short answer is yes.
Or if you don't have the budget for SEO services. Quality agency SEO services can cost anywhere from a half to a few thousand depending on the scope of the work and the result you want to achieve. So if your budget is very minimal or nonexistent, you can try to do the initial work yourself.
And of course, one of the most important factors for you to be able to do your own SEO effort is at least some understanding of page administration and knowledge of content management systems.
Optimize page titles with keywords
The page title (meta title or title tag) is displayed in Google search and is one of the most important elements of internal SEO to tell Google what the page is about.
The integration of target keywords in the title informs Google about the purpose of the page. In addition, a well-designed title is likely to be the most visible part of the standard search result snippet and will encourage click-through. And while title tags is known to lose organic ranking power, they do influence clicks and therefore remain important.
Tips for writing meta titles:
No longer than 60 characters. Otherwise, the title is not displayed in full in the search results and may not show important information that might have led the user to click on that particular search result if it had been visible.
The headline should have the keyword or phrase used at the beginning and should state exactly what the page is about. Do a quick keyword research first with keyword research tool, such as Keyword generator or other from the many free tool available online.
Don't forget to mention your company/brand name, which is usually written at the end after the "-" or "|".
Titles should be unique for each page.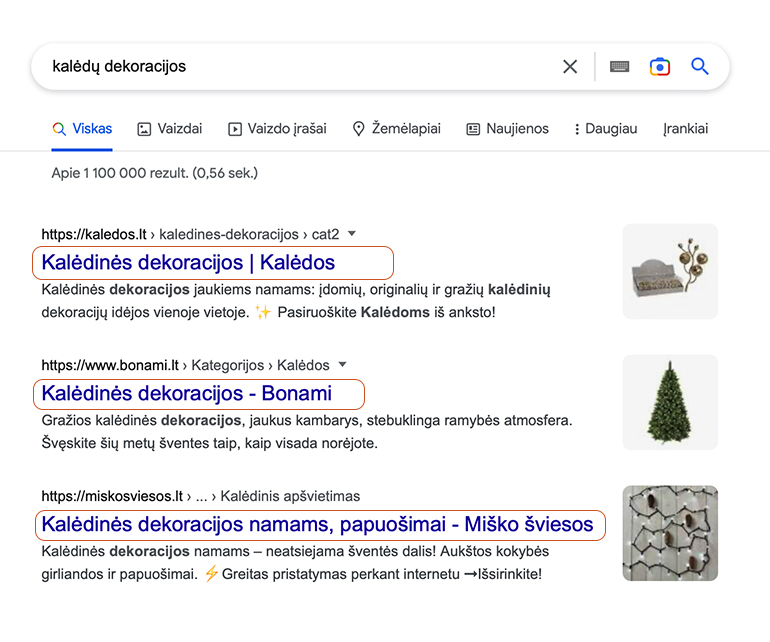 *Meta titles are marked in orange.
Write meta descriptions
In addition to the title line, search engines also display a short snippet of the page's text in the SERPs fragment. This gives the visitor a better understanding of what the page is about and how it relates to their search, as the search engine will highlight keywords if they match what the user searched for.
If the description is not specifically designed, Google will display the first part of the text from the page. Why is this not such a good idea? The text at the beginning is not necessarily the best and most concise description of what the page is about. What if there is no text at all on the page, but there are examples of work or a gallery? Then the search engine will display any text from the page, for example listing categories or contacts. And it won't necessarily look pretty or informative to the user.
Like title tags, descriptions are not a direct factor in search engine ranking, but a well-written and relevant description will increase the number of clicks, because it is up to the user to decide subjectively which of the similar content they prefer. This increases the chances of ranking better.
In addition, both titles and descriptions are displayed when content is shared on social networks such as Facebook.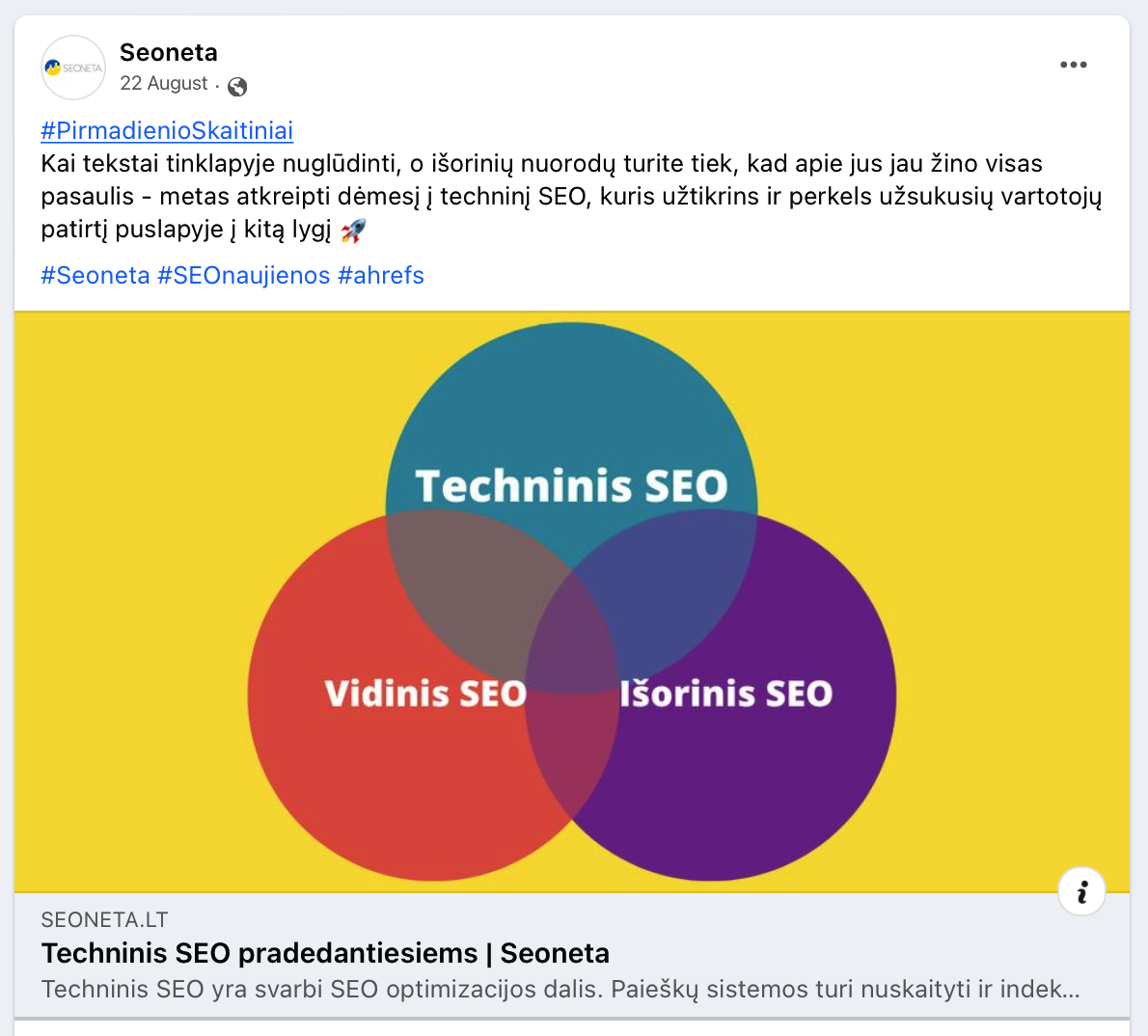 *Links shared on social networks contain meta data from your page.
Tips for writing meta descriptions:
Descriptions should not exceed 160 characters to ensure that the search engine displays all the text you have written and does not hide important parts of the message.
A unique description for each page; a complete and best description of what is on the page and how it relates to what the user is looking for.
Do not use quotation marks "..." as the meta description is part of the HTML code and Google recognizes the quotation marks as signals to shorten the description from that point and will automatically cut the rest of the text from the SERP snippet.   *Examples are highlighted in orange.
Fill in alt text and be visible in Google images
We've written an in-depth article on the benefits and best practices of alt texts and how to create them here (in lithuanian only). One of the easiest ways to get featured in Google Images is to create unique and detailed alt texts for your images.
Optimize image size
The first impression is the key. That's why it's important that the page loads quickly and allows users to navigate. Large image sizes complicate the code and the page loading speed. It is therefore essential to reduce existing images on the website and to add new images that are already optimized. It is only the size of the images that needs to be reduced when optimizing them, not the quality.
You can adjust the size of your images by installing additional plug-ins on the page (depending on the system, e.g. Wordpress - Optimole, ShortPixel), by using online tools (e.g. TinyPNG, Canva, PIXLR) or by using other photo editing software (e.g. Adobe Photoshop).
Make your page eye-catching
Studies have shown that in just 17 milliseconds, customers form an opinion about your brand by going through your business website and evaluating its overall visual design. If customers don't find your website clean or visually appealing, they're likely to leave without coming back. Therefore, high quality, professional and attractive photographs of products or services are just as important to attract and retain customers as the service or product itself.
Make sure you have presentable and high quality product photos. Of course, don't forget the importance of image optimization discussed earlier and make sure that compressing the photos does not ruin their quality.
Write engaging content
The content on your website is crucial, without it, search engines won't have enough information to correctly index and rank your pages. Engaging content improves your visibility in search. There huge competition on the SEO content if you offer a common product or service, thus optimize content step-by-step, use Google and other tools to help you create strong SEO content.
Tips for SEO copywriting:
Write texts for category, service and product pages. Don't forget to introduce yourself on the "About Us" page. Such texts could be up to 500 words, or longer if there is a lot of competition for a particular keyword in a search engine.
Use keywords that are most relevant to the product or service in your descriptions.
It is valuable to have tips or blog type page where you can post news or tips about your industry and company activities. Entries could be between 500 and 1000 words.
In addition to new engaging content, don't forget to review and update old website content to make sure it is still relevant.
You can already start your content marketing strategy by engaging potential clients on social media such as Facebook, Instagram, TikTok, SnapChat, Youtube and etc. 
Link internal pages
Google and users like it when you provide additional resources to your content to help them better understand the topic. Make sure you've did well on internal linking of your website pages, and here are a few places where it's worth doing so:
Main page navigation,
Blog or news posts,
At the bottom of the page (Footer,
Product and service pages.  
Content should be easy for users to find and accessed from the first page, or at least with one or two clicks. So by linking your internal pages and content, it will be easier for the visitor to navigate your site and find the content they are looking for.
Find yourself online (backlinks)
All of the SEO efforts described above is referred to as on-page SEO, because it takes place inside the page. But just as important is off-page SEO, in which link building play a major role.
There are many strategies to grow your backlink network, but if this is just the beginning for you, you can take the first steps yourself. The easiest way to get backlinks to your page is to search for your business name and your service or product in Google and Bing, find mentions and contact the page administrator or editorial team to ask them - since they are already talking about you - if they could put a hyperlink on your page too? Be friendly :).
And if you have set up a Google Analytics property but will not see any actual organic traffic from where your backlink is - don't worry, it is still worth for Google's rating.
Creating Google Business account (before known as Google My Business) may help increase organic search traffic to your site and improve user experience by giving them the most important information on the first Google page with your contacts, opening hours, main products and services, pictures, logo, etc.
When should I outsource my SEO work to an SEO specialist?
These DIY SEO tips are just the first steps you can take to improve your website's search engine optimization on your own. However, a good start may not be enough to grow steadily and confidently on the internet and improve your page's ranking in search engine results pages, so why do we recommend that you outsource the later stages of your site's SEO and hire an SEO professional?
SEO audit. SEO professionals will help you find solutions to any mistakes you have missed, as well as technical SEO errors on the page, or errors that occurred during the creation of the page, and those that you were not aware of such as page speed.
Off-page SEO. SEO professionals will help you further develop your network of quality external links with relevant keywords and analyze the existing ones. SEO agencies usually have lists of regional, thematic, industry and other themed portals that they work with to develop a network of quality links.
Consistent growth and maintenance of rankings requires continuous work and a well-thought-out SEO strategy and a strong SEO campaign, which requires time, money and other resources, so why not let yourself concentrate on business and leave us to grow your business online?